Home
Becky
Pat
Allen
Photos
Down Syndrome
Music
Pat's Links
Pro-Life Feminism
Genealogy
Martial Arts
Fractals
Free Backgrounds
Religion
Digital Landscapes
Email Stuff
Cofounder's Award
Awarded by Pat Goltz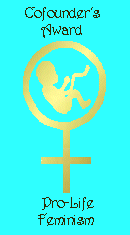 As cofounder of Feminists for Life, I wish to encourage pro-life feminist thought on the internet. This award is intended to promote this purpose.

A webmistress or webmaster may apply for this award, or I may invite one to apply if I think the site would qualify. If you wish to nominate someone else's site, please check with them first.

A person who runs a discussion board may also apply. For example, a person who has a Yahoo club may apply, and may display the award on the photos page.

Finally, a person who does not have a web site or a discussion board, but who promotes pro-life feminism on discussion boards, and is willing to make her email address available on my site, may apply.

I will maintain a list of links to sites that have received the award. You will be required to link the award to my site.

If you run a pro-choice site, please read my comments here.

The symbolism of the award is as follows: the female sign with the unborn baby inside symbolizes the fact that the well-being of both mother and child is congruent. Mothers and babies are not enemies, and if you harm the baby, you harm the mother. The baby is not attached to the mother. This symbolizes the fact that the baby is a separate being and has rights of her own. The baby is inside the mother, which symbolizes that she has the responsibility of protecting the baby. The baby depends on her for protection. The blue background symbolizes peace, reminding us that abortion is the enemy of peace, but protecting both mother and child is the source of peace.

What is pro-life feminist thought?

Pro-life feminist thought focuses on women. It unabashedly acknowledges that the unborn are fully human from the moment of fertilization, and that strong women don't kill tiny unborn children. It promotes the idea that abortion is bad for women and for women's rights. It shows compassion toward women who were forced to abort, or who are sorry they had abortions and seek healing. It also shows compassion toward people who have been involved in the abortion industry but who have repented and seek healing. It welcomes women who have had abortions but who have become pro-life, as well as people who have been involved in the abortion industry, but who have become pro-life. It seeks to reach those who are not yet pro-life, but care about women. Pro-life feminism actively promotes efforts to provide realistic alternatives for all women contemplating abortion.

Sites that merely focus on how women have been harmed by abortion will be considered, but I will encourage such sites to have explicitly pro-life feminist material as well.

Since I examine each application carefully, please expect that it will be a little while before you hear from me. When you do, should I reject your application, I will explain why. You may then make changes and reapply. I will not entertain multiple applications, but I place no waiting period on reapplying. I am not interested in running an exclusive club. I am interested in helping as many people promote pro-life feminist thought as possible.

These are the criteria I examine:

1. The overall tone of the web site is compatible with pro-life feminism.

2. The site contains original pro-life feminist thought.

3. The site supports legislation that curtails abortion. Anarchist and libertarian sites must support the idea that when a government legitimately protects people against force or fraud, it also protects women and children from abortion. It is not a pro-life position if the position holds that abortion is violence, but proposes no viable way to curtail it. People left to their own devices will get abortions. Unborn children deserve protection of their unalienable human rights on the same basis and equally with all other human beings, and they are more in need of it than many other people. Failure to recognize this is a form of prejudice that dehumanizes them, and leaves their mothers vulnerable. While social ostracism is a way to protect women and children from abortion, it often works poorly, and encourages lack of compassion toward women who have had abortions.

4. The site contains documented evidence that can be used to persuade people that abortion is bad for women and women's rights.

5. The site openly opposes clinic violence, and does not link to sites that support it. This includes links to sites that, while not promoting clinic violence themselves, link to sites that do. It also includes links to sites that equate prisoners who were imprisoned for peaceful protest with prisoners who were imprisoned for clinic violence. I will check this on an ongoing basis. Be careful who you link to!

6. The site demonstrates compassion toward women who have had coerced abortions or who are sorry they have had abortions, and also demonstrates civility toward all.

7. The site is easy to navigate and loads quickly. It does not contain broken internal links, nonworking code, or misspellings and bad grammar. (If you need technical help, I can provide it on a limited basis, as my personal time permits.) It does not contain Java applets without an alternative page for people with Java disabled. Folks, Java crashes some browsers! This includes Netscape 4x!! I will be examining your site with Java turned off, so if it is not navigable that way, you will not receive an award. You don't save mothers and babies if people can't access your site!!!

8. If the site supports a discussion board, personal attacks are not tolerated.

Bonus points are given for:

1. A site run by or featuring a strong woman who is proud of it. For purposes of this criterion, a woman who is strong in Christ and not ashamed of the gospel qualifies.

2. An aesthetically pleasing site.

3. A site that includes nonvicious pro-life humor, including satire and parody, particularly one that shows the absurdity of pro-abortion rhetoric and arguments.

4. A site that encourages dialog with the other side to seek common ground.

5. A site that contains material focusing on coerced abortion in China and Tibet, and encourages political action to put a stop to it, or a site that contains material discussing the way in which powerful organizations and countries are promoting abortion in third world countries, and likewise encourages political action.

6. A site that opposes euthanasia and discusses the reasons euthanasia is bad for women and women's rights.

7. A site that contains documented evidence of how the population-control movement is seeking to make abortion mandatory, or has infiltrated the feminist movement at any time.

8. A site that contains material showing how to make abortion unthinkable.

9. A site that contains material focusing on other women's rights, and shows how our thinking is affected by being pro-life feminists.

10. A site that contains pro-life feminist materials in languages other than English, or provides links to such material in other languages.

11. A site that contains links to pro-life materials in other languages.

Points will be deducted if:

1. A visitor to the site cannot email the individual or organization sponsoring the site and get a reasonably prompt response. In particular, this includes a site where there is no easy-to-find way to email anybody.

Please note: I have the capacity to evaluate sites in a number of foreign languages. But it takes me longer.

Sites that promote nonfamily values such as pornography, racism, sexism, hate, foul language, or that are unsuitable for children need not apply. Sites may contain factual material not suitable for children, with an appropriate warning.

Political persuasions outside of pro-life feminism will NOT form a basis for accepting or rejecting a site. If I feel that the political persuasion will hinder pro-life feminism in some way, I will point out why.

If you run a web site that is "pro-choice" in position, yet reaches out to women who have been harmed by abortion, discourages women from having abortions, or seeks legislation or legal action to curtail abortion in some way, to protect women from coercion, whether from individuals or from a situation, or to clean up the industry, and are willing to engage in ongoing dialog with me on common ground, please email me. I am considering an award for such sites, but at present, have not worked out in my mind what criteria I would like to use. At this time, for your consideration, I will expect such sites to recognize: 1. that abortion carries significant medical risks of permanent physical damage and even death, even when done properly and legally, 2. that abortion is different from other medical procedures inasmuch as it is almost always done on healthy women whose pregnancies are proceeding normally, disrupts a normal bodily process in a violent way, and therefore, the mere performance of an abortion on a woman violates the medical principle "Primum non nocere" which means "First do no harm." 3. that abortion carries significant risk of emotional and spiritual damage for a woman, 4. that we cannot predict which women will suffer these problems and 5. that I will not support anyone who is willing to abandon women to this possibility. This presupposes that fostering a choice of abortion for such a woman rather than finding a viable alternative for her may result in a needless death or maiming, which I will not condone. For this reason, a "pro-choice" site that discourages abortion will be considered.

If you wish to apply for the Cofounder's Award, please email me and include the following information where applicable:

Your name (required)
Your email address (required)
The name of your site (required)
Your URL (required)
The URL of your pro-life feminism section
A short description of your site
The URL of discussion boards you supervise, or on which you are active.