Tucson Junior Strings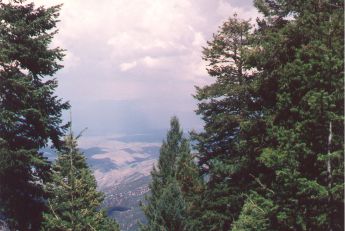 Tucson Junior Strings is a unique organization. Located in Tucson, Arizona, it has been under the leadership of Dennis Bourret for nearly 30 years. It consists of six string orchestras, made up of string students from preschool through high school. Each string orchestra plays progressively more difficult repertoire than the last. The three lower orchestras, known as Sinfonias, are followed by the chamber groups. Chamber II and Chamber I play the standard string orchestra repertoire, as well as chamber pieces arranged for string orchestra. Junior Chamber is made up of string players capable of playing standard string repertoire, but who are elementary or middle school aged. Chamber II and Chamber I are for high school level players. Chamber II usually takes a tour within the state, or to a neighboring state, once a year. Chamber I is the most challenging orchestra of all, and it usually tours to much more distant places. It has been to such places as Honolulu, Vancouver, Victoria, Calgary, Ottowa, Montreal, Seattle, Portland, San Francisco, Los Angeles, San Diego, Denver, New Orleans, Disney World, Washington, DC, where the orchestra played on the lawn of the United States Capitol building, Boston, London, Paris, Brussels, and Heidelberg. In order to pay for these tours, Chamber I plays a series of light classics for various clients in Tucson.
One of the unique features of Junior Strings is the way in which the seating of the orchestra is arranged. Each student is expected to act as first chair in his or her instrument for one piece, in performance, sometime during the year. Students compete with each other for this position, for each piece. During the semester, everyone is expected to sit in first chair as often as possible. The duty of the first chair of the section is to lead, in the manner of a chamber group, his or her section. The orchestras play without a conductor! Chamber I students are each assigned a first chair at the beginning of the semester.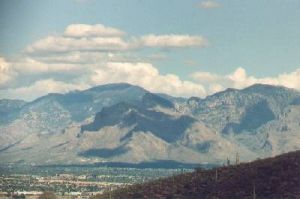 In addition to this program, Tucson Junior Strings holds an annual summer music camp. This camp takes place in the beautiful Santa Catalina Mountains, in the Coronado National Forest, north of Tucson.
This camp draws chamber players (string and piano) and coaches from many different places. Usually, some of the faculty comes from Moscow, Idaho, which has a similar camp. And students have come from as far away as Moscow, Russia!
Faculty consists of people who have degrees in string and piano performance, including university professors. Their time is donated. Each year, a master coach is chosen.
During the camp session, which lasts a week in late August, students practice a movement from an assigned chamber piece, twice a day. Each chamber group is assigned a coach, who works with them daily on this piece. Toward the end of the week, each chamber group performs this piece for the coaches, who critique it. In the evening, the entire student body works on a string orchestra piece under the baton of Dennis Bourret.
When the coaches are not working directly with students, they practice chamber pieces of their own, giving one to three chamber recitals in the city, to help fund the camp.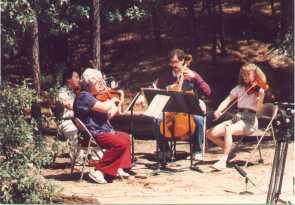 On Saturday morning, the student body gives a chamber recital which lasts for several hours. Each chamber group performs its movement in an outdoor amphitheater. For the string orchestra piece, everyone moves inside the dining hall.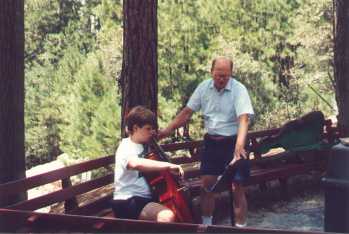 Food at camp is fabulous, and highly praised by all. Parents of students act as cooks. In recent years, parents of east Indian students have provided wonderful Indian food especially for the vegetarians, with everyone else welcome to share.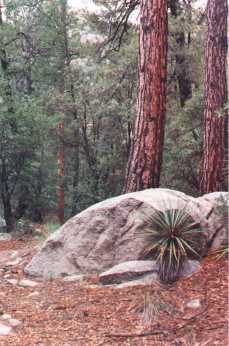 There is also plenty of time for fun. Students can play volleyball or other sports, or go on hikes, and the students who have the desire can prepare a skit for skit night, which is always Thursday evening.
Many of Tucson Junior Strings' students have gone on to become professional string players. Many have been able to attend the best conservatories in the nation, including Juilliard School of Music, Eastman School of Music, New England Conservatory, Cleveland Institute of Music, Oberlin, and the Cincinnati Conservatory. In addition, they play in orchestras including the Chicago Symphony, Cleveland Symphony, Dallas Symphony, Minnesota Symphony, Mexico City Symphony, Montreal Symphony, and Vienna Radio Symphony, as well as chamber groups all over the United States.
The Musical Director for Tucson Junior Strings, Dennis Bourret, is the founder of Chamber Music in the Mountains at Echo Glen, Chamber Music from Echo Glen Festival, and Ruisseau Conservatory. He received a Bachelor of Music and a Master of Music in performance from the University of Colorado at Boulder. He has also been principal chair of the Tucson Symphony, Tucson Pops, and the Arizona Opera.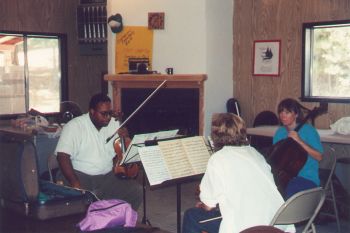 Tucson Junior Strings is a unique organization. It is our hope that this will not remain so. We would like to see organizations like this all over the country.
If you wish, you may now view Tour Photos. There are six thumbnails pages, and you may move from one to the next each time by clicking on the right arrow. Left clicking on a thumbnail automatically opens a new window so that you may observe the full sized photo. You must have javascript enabled on your browser to see the large photos. The first page is photos from Chamber Music in the Mountains. Subsequent pages are of Florida, Washington D.C., Seattle, and Vancouver. The final photo is violinist, violist, and photographer, Allen Goltz, who took the photos at Chamber Music in the Mountains, and in Florida and Washington, D.C. Seattle and Vancouver photos were taken by violist Heidi Goltz. After viewing the sixth thumbnails page, click on the rightmost up arrow of three to come back here.
Photos are of the Catalina Mountains where the camp is held, and of the camp. Photo credits on this page: people: Anna Bourret; scenery: Pat Goltz.
For more information, click on the logo to reach Tucson Junior Strings' web page.